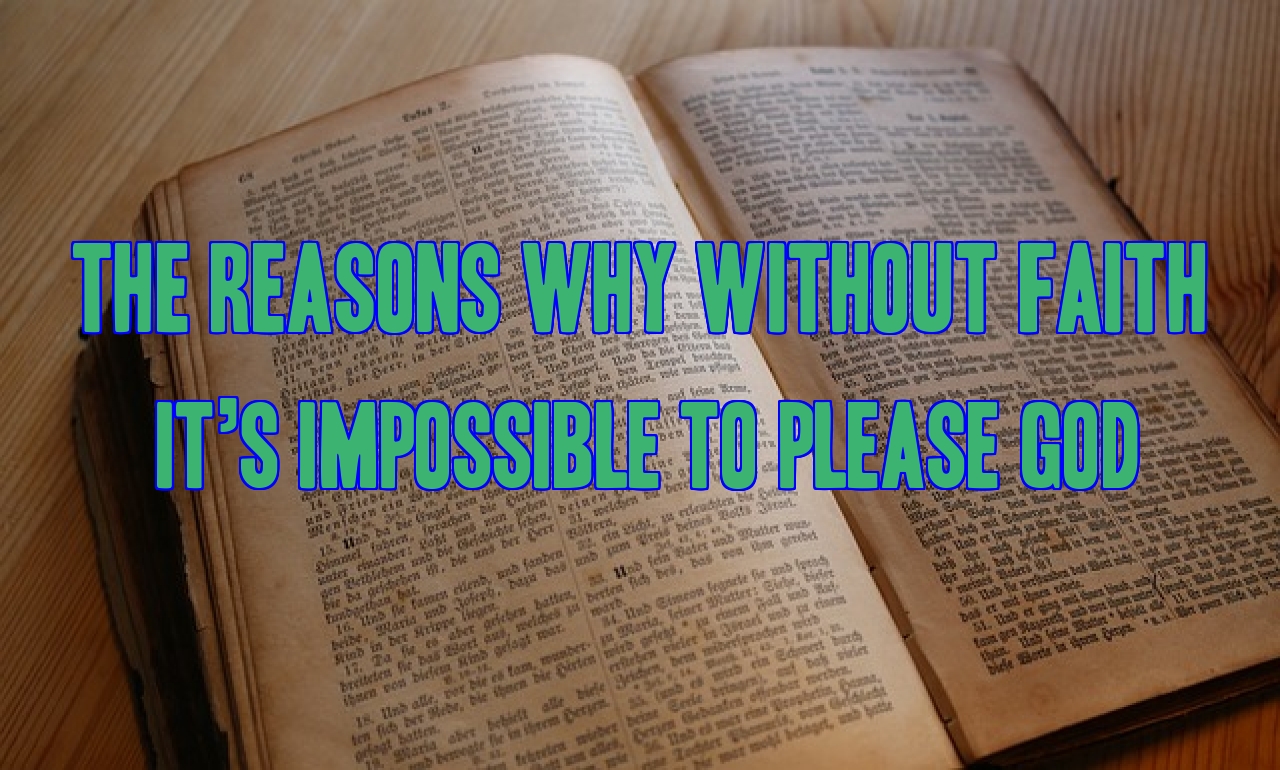 When it comes right down to how God interacts with humanity, we see that our faith is the leading substance that invites and maintains His presence in our lives. Moreover, faith is also the substance that cuts through the physical realm and connects us with God in such a powerful way. First, His unseen presence is everywhere; in other words, His presence is all around us. 
Faith in God is the fundamental element that enables us to acknowledge, revere, and embrace His absolute existence and divine presence. This leads us to grasp the fact that the supernatural realm into which God dwells is far more real and powerful than the natural one in which we live.
Since the supernatural world dominates the natural world, faith allows God to direct what will transpire in our life. Faith in Him allows us to stretch out our own belief and hope by making them go beyond the natural boundary of our finite mind and this world.
Having introduced faith in such fashion, faith is also an indispensable necessity in order to please God. We'll never be able to fully comprehend as to why faith is such a critical matter to the extent that people's own eternity hinges on whether or not they're willing to exercise faith in God on the basis of Christ's finished work on the cross. But even so, we'll take a look at it on the account of what the Word of God has to say about the vitality of faith. Let's go over these Scripture verses found in Hebrews chapter 11.
Now faith is confidence in what we hope for and assurance about what we do not see (Hebrews 11:1).

And without faith it is impossible to please God, because anyone who comes to Him must believe that He exists and that He rewards those who earnestly seek Him (Hebrews 11:6).
First, faith starts off with acknowledging the absolute existence of God, which pertains to His invisible qualities–His eternal power and divine nature in the creation of the world (Romans 1:20). And the belief that He's a rewarder of those who earnestly seek Him, which then relates to whom God is (Exodus 3:14, Philippians 4:19, Proverbs 16:3, Jeremiah 29:11, Numbers 23:19). In short, faith is built upon these two colossal pillars which are knowing that God exists and having a firm belief that He rewards those who seek Him earnestly.
There's an inseparable bond that exists between both of them, meaning that you cannot have one without the other one. You cannot seek God wholeheartedly unless you recognize His existence. You cannot honor His absolute existence and whom He is unless you seek Him wholeheartedly. Lastly, you cannot please Him unless you combine both of them. Most importantly, pleasing God is totally dependent on following God's own precepts instead of us doing what we think is the right course of action. Bear in mind, your earnest quest for God will never be in vain (Jeremiah 29:13, Deuteronomy 4:29).
Why Without Faith it's Impossible To Please God?
To have faith in God is to trust Him above all. The main point is that trust itself has to do with the integrity, reputation, character, image, and ability of someone. Based on that statement, it's quite easy for us to realize why God is not pleased as a result of people's unbelief. When people cannot trust God with their lives, it doesn't honor whom God is, it doesn't honor His Word, and it doesn't honor His integrity as well.
Unbelief itself is a form of idolatry in case you didn't know that because something else is being trusted more than God. Unbelief always has a main cause influencing it, so that very cause is always associated and sustained by something contrary to how God Himself wants us to see Him in light of a present troubling issue. So unbelief is a major stumbling block that will always keep us from reaching our full potential in Him.
The question is that do we allow doubt, worry, fear, erroneous beliefs, and uncertainty about the future to occupy the place that God Himself should occupy in our lives? Whatever we've allowed to hold us back from trusting God is our god in some way; in other words, whatever it may be is being assigned more trust since it gets to determine our belief toward God. Whatever that cause may be, it's given more priority over what God says through His written Word.
God's standard operating procedures demand that anything that's being done for Him must be done in a way that reflects His shining greatness. Meaning that we have to give Him our very best in everything we're doing for Him. With respect to trusting God, it has to be done without reservation. Additionally, it has to be done by turning our focus away from the obstacles that may hinder us from trusting Him.
Trusting Him means rising above our human weaknesses that are pulling us down like a strong gravity force and keep us to a position far below from where God wants us to operate as His children. In short, faith glorifies God in the context of trusting Him on the ground of who He is, and what He's able to do in relation to what He says in His Word. On the other hand, unbelief utterly brings dishonor to God due to the fact that it doesn't acknowledge God's trustworthiness, greatness, and faithfulness.
Conclusion
Our faith in God through Christ is the core foundation upon which our lives as Christians are built. Faith is what makes Him become real into our lives. Whenever we allow unbelief to get the most of us, we literally turn God off. Unbelief is a poison for both unsaved people's eternity as well as our relationship with God. Our maturity along with our ability to endure life's bad circumstances will be based on the type of faith we have in Him. Therefore, let's please God through the means of trusting Him in a way that reveres His character.
Related resources: