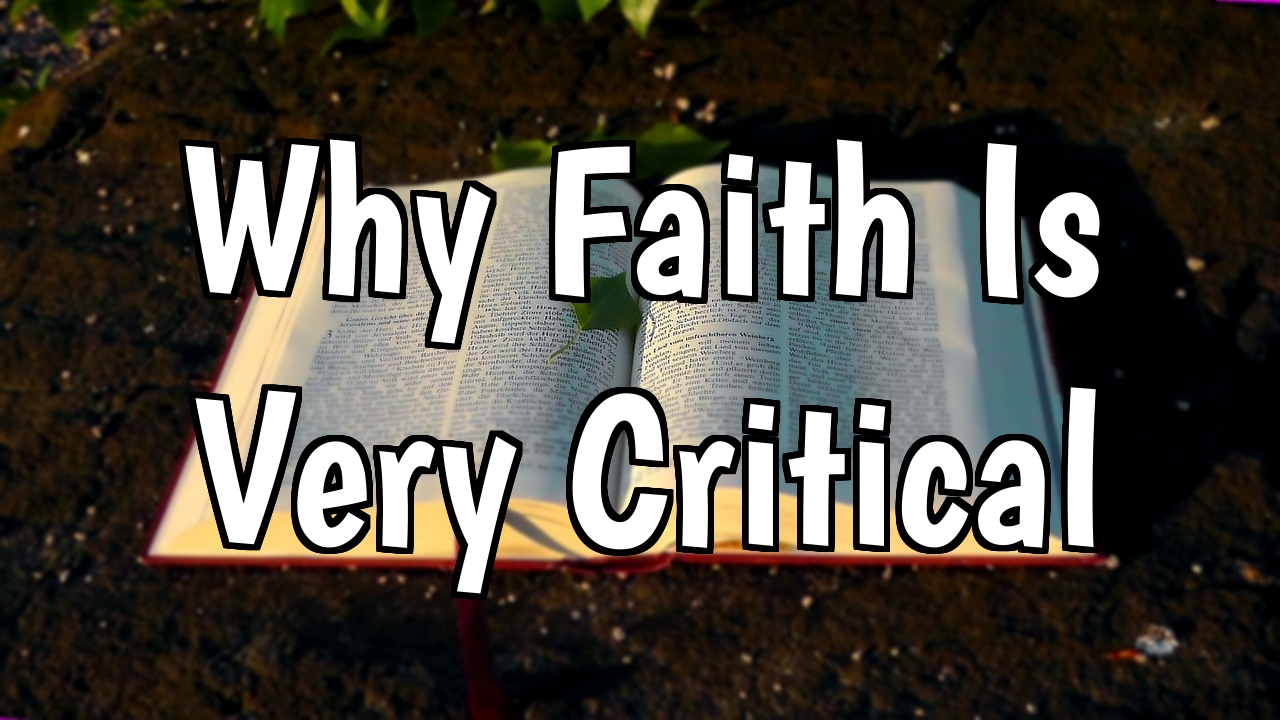 Faith is an indispensable necessity in the life of every believer because the Christian life is centered totally upon having faith in God through Christ. This statement compels us to seriously embrace the fact that we're saved by God's grace through faith alone. That's all God requires in order for salvation to be obtained. In this case, faith is a must-have requirement to serve the Lord wholeheartedly and acceptably. 
Faith is a well-grounded assurance that must dominate our lives as Christians. It's also something that we have to work upon constantly due to our fallen nature. Because everything we'll ever receive from God will be attained through our willingness to exercise faith in Him as displayed in His Word. In fact, without faith it's impossible to please the living God according to (Hebrews 11:6). 
God is Pleased And Glorified by Our Faith in Him.
One major aspect of faith is that God is glorified and honored when we place our complete faith (trust) in Him alone. How we live our lives before God conveys a clear message to Him concerning our whole attitude towards Him, which priority we give Him over our lives, and how much we realize that we need Him to work into us.
When we trust God above all, we are telling Him in the midst of life's horrible circumstances that we have no control over; He is the only One worthy of being relied upon. He's glorified due to fact that He gets to be whom He wants to be in our lives; instead of letting something else to occupy His place, which is nothing more than idolatry.
Trusting Him as prescribed in (Proverbs 3:5-6) allows Him to occupy first place in our lives. Faith enables us to acknowledge and embrace firmly whom God has claimed Himself to be in His Word. When we put Him first above everything else we consider as valuable in this life, God is very pleased by that because we trust Him on the ground of what He's able and willing to do in relation to whom He is.
When we place our complete faith in Him; it's all about us acknowledging His infinite power compared to our human limitations. Additionally, having faith in God is to acknowledge God's greatness, faithfulness, trustworthiness, and goodness to those who seek Him earnestly. 
God is self-sufficient which means that He doesn't need anything from us in order for Him to sustain Himself. However, as people that He loves unconditionally wants us to have faith in Him in order for Him to unleash His blessings in our lives. God is the object of our faith. We're made to rely on Him through an intimate relationship, and faith has become the means by which we can trust Him. 
The Word of God is The Main Source of Our Faith.
Everyone has some level of human ability to exercise faith in certain things. However, the type of faith that God wants us to have is rested completely on His infallible Word because that's His primary means of communicating with us as humans. According to (Romans 10:17), faith comes from hearing, and hearing through the Word of Christ. Exercising faith in God takes place by believing Him based on the promises that He has made through His Word.
The Word is a lamp to our feet and a light for our path (Psalm 119:105). Therefore, we're not only led by the Word to live a life acceptable to God through holiness, but the Word is the point of reference that helps us to know where we are in God and how far off we're from Him. The Word also helps us to understand Whom we're placing our faith into. The significance of faith is totally dependent on the trustworthiness of its source. The Word itself is an extension of God Himself given to us. Furthermore, that's where we learn everything we need to know regarding His love, compassion, grace, mercy, faithfulness, mercy, providence, and so on. 
We Must Trust God Alone.
Keep in mind, faith must be full or complete. Meaning that God wants us to trust Him with all our being as well as everything we have. The ideal way of trusting God is to express that just as if you were in a highly desperate situation in which it's either life or death. Thus, during that process your whole focus has to be placed straight on His power to get you out. Apostle James even takes it one step further by declaring in (James 1:6) that "But when you ask, you must believe and not doubt, because the one who doubts is like a wave of the sea, blown and tossed by the wind."
God is appealing to us consistently all throughout His infallible Word to never rely on any other things than Himself. He is calling us instead to place all of our faith, trust, and hope in Him alone if we really want our future to be secured. Evidently, it might appear as nonsensical humanly speaking to depend up completely on a person Whom we've never seen or touched.
In that regard, this is where God's involvement in the faith process is critical. Because as humans, we don't have the capability of exercising true faith in God without being empowered by His Spirit. The Holy Spirit actually moves us to trust God in such a way that we would have never been able to so with our human strength. He's also the very One strengthening our faith. Our faith in God never fails because the One in whom our faith is placed never fails. 
Our Faith in God Brings Forth Deep Transformation Into Our Lives.
Our faith in God literally transforms us into people that He can trust and count on to fulfill His perfect will for humankind. In other words, our faith is what makes us reliable in the eyes of God. Faith allows us to condition and organize our lives in such a way His will and purpose can be accomplished into us. He wants us to trust Him in the context of not only allowing Him to work through us but to make us become stronger, better, and wiser Christians. Therefore, our strength, endurance, and patience determine our level of faith in God.
Everything that we have as believer from salvation to the last stage of the Christian life called glorification revolves around our faith in God through Christ. How God sees us in the area of faith is based on how much we're willing to trust Him by allowing Him to work through us, in us, with us, and for us. When we do that, we allow Him to take total control of our circumstances. Faith is built and strengthened by remembering how faithful God has always been in His Word along with how faithful He's always been to us all throughout our journey.
When we're struck by a dire circumstance that seizes our whole attention to the degree that we start forgetting how powerfully God has been working through us, all we really have to do is to look back and think about how He was able to deliver and sustain us through previous life's storms. And we ought to use that as a stepping stone that will enable us to trust God more and more about the current issues we're dealing with. The basic is that if He was able to do it then, He's still able to do it now.
God in His goodness has provided us everything by grace through Christ. We're left with the responsibility to respond by faith since it's the very thing that will activate His promises and make them become ours. Faith and obedience walk together. If we claim that we have faith in God; we must be willing to obey what He says. Our faith in Him is the vital element that sustains us in time of needs, trials, and hard sufferings. By having faith in God, we can certainly look way beyond life's obstacles with a firm assurance that He's with us and will always be with us no matter what happens.
As you are reading this article, your life may be completely surrounded by unpleasant issues that may be taking a toll on you as well as controlling your way of thinking immensely to the extent you feel like God is far away, or you're in this situation all alone. That's how our fallen nature influences us to think when things aren't going well due to its inability to understand how God operates.
Having said that, complete faith in God will empower you to behave in such a way just as if your best days are still ahead of you. You should strive to always look beyond them by shifting your attention away from them to what God is able to do on your behalf. When you do that, God gets bigger and bigger and the problems get smaller and smaller.
In this particular page, we have collected a number of well-written articles regarding the issue of having faith in God that are readily available for access. All you have to do is clicking on any of the articles' titles below.